News Articles
Auto-pour systems take the power out of bartenders' hands
More bar owners are installing new breeds of automatic systems that can track every bottle in stock, monitor each pour to the ounce and wirelessly link bottles right to the customer's credit card.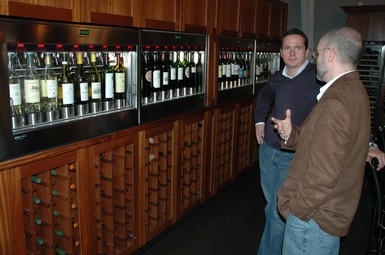 The most advanced systems bypass the bartender altogether and dispense even $60 glasses of wine through a pneumatic spout right to the customer holding the glass. The Swan and Dolphin hotel at Disney, Capt Hirams in Sebastian and Taps in Tampa are installing a range of such automatic systems.
Whether the machines change a bar's atmosphere, more bar owners find them appealing for an important reason: Financial control over a business that's long been susceptible to fuzzy portions or pilfering.
"This has probably been one of the best things we've ever tried to control our costs," said Timothy Michaud, CEO of Capt Hirams, which generated several thousand dollars in new revenue each month after installing a tracking system. "If we could only do this with food."
For decades, bartending has been fertile ground for inventors hoping to sell the next big gadget.
One big motivation: Bartenders are the rare employees in the hospitality industry who single-handedly take a customer's order, prepare the product, and take cash to the register – mixing entirely on their own initiative for cash tips.
Bar owners have long sought some method to standardize the vagaries of pouring drinks, and bring the kind of automation that allows fast food chains to benchmark food ingredients down to the micro-ounce across thousands of locations.
There have been mechanical bottle tops that dispense a set amount of fluid. But they don't prevent bartenders pouring twice into the same glass.
The speedy bartender may gather a few more tips by pouring a bit long for a regular guest. But bar owners cringe at the lost revenue, if not liability from pouring extra.
There have been automatic "guns" that squirt a specific size liquor shot. But some bar owners say the machines detract from a bar's cozy atmosphere.
Major resorts in Las Vegas were among the first to adopt automatic bartending. Now the gadgets are showing up in Florida.
The Swan hotel at Disney uses a mobile wine dispensing system to convert a rarely used hallway into a makeshift cocktail lounge each day. The system was built by Napa Technologies of Santa Clara, Calif. that inserts a small tube into the bottle, and replaces air inside with an inert gas to prevent the wine going bad.
Passing guests can squirt out their own glasses of wine, or bartenders can keep dozens of wines on tap without bottles spoiling. Napa Technology has similar machines in the TD Gardens stadium in Boston, Whole Foods stores in Chicago and the large Tasting's wine bar in Ft. Meyers.
The Taps wine bar in downtown Tampa used a new Enomatic wine system as part of its main business plan. There are traditional bartenders. But there are also rows of highly polished dispensers where customers can slip in a debit card and pour themselves any of 60 different wines by the glass.
"Every drop is accounted for, and the novelty of the machines attracts people," said James DeVito, who owns Taps, and the neighboring Raw sushi bar.
Such automatic machines all-but-eliminate the chance of a bartender pouring extra for a friend, or pouring a top-shelf bottle, but ringing up a cheaper variety on the cash register and pocketing the difference in the tip jar.
DeVito says his system also lets him offer small tastes or glasses of more expensive wine.
Before, bartenders might open a $300 bottle of wine for a customer to taste, but unless they sell the rest of the bottle within a few days, the wine goes bad and the bar loses money. With an automatic system, the bottle stays fresh for upwards of two months.
The Venue nightclub in Clearwater last year installed a system that automatically weighs beer kegs to track each draft poured down to the ounce.
Customers who frown at badly mixed liquor or a weak drink should appreciate such gadgets, says Michaud of Capt Hirams. His property includes five bars and 20 bartenders who can serve four thousand guests on a busy day.
One year ago, Michaud installed a liquor tracking system called Scanabar that tags each bottle upon arrival. Managers each night then use a special scanner that measures fluid levels on each bottle to a fraction of an ounce.
The scanner then wirelessly connects to an accounting system that checks the amount of liquor sold from that bottle, flags any bottles that are inexplicably low and assigns each bartender a daily accuracy score.
Sometimes, the system merely shows bartenders mix differently by habit.
"When we first got the system, we had 20 bartender scores all over, so we tested them and found they all made a margarita differently," Michaud said. "They didn't mean to. But sometimes you hire someone from TGIFridays who always made a drink a certain way."
That's not to say everyone is sold on new gadgets.
"Every five years or so, there seems to be a new system," said Rick Falkenstein, manager of the long-time Florida beach bar The Hurricane on St. Pete Beach. He's seen them come and go.
Instead, he focuses on training each bartender, and listening to comments from customers.
"I've seen machines before, but customers say they were too sterile an experience," Falkenstein said. "Customers like to see the bartender making and presenting their drink. It's part of the entertainment process, part of coming to Florida."