News Articles
Taking Inventory on 10 Years of Success at Scannabar
Like many men and women that run successful businesses in the hospitality sector, Scannabar President Roberto Scanga started at the bottom as a teenager, working as a busboy and server in restaurants, bars and hotels.
It was that experience toiling in the trenches as a youngster that prepared him for the many challenges he would face over the past 10 years as he helped build Scannabar from a raw upstart into the thriving company it has become today.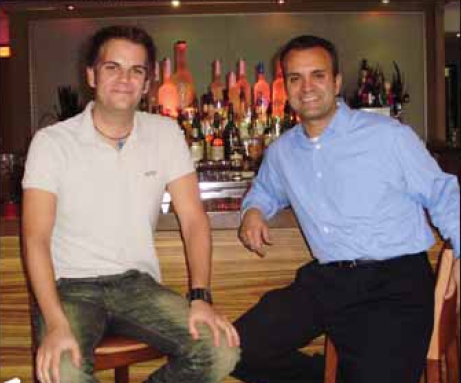 As an avid fisherman, Scanga knew he had something worthwhile on his line back in 1998 when a friend approached him with an early version of a product that was designed to make the arduous task of taking inventory much simpler. With first-hand knowledge from his early days in the biz, Scanga remembered what a nightmare those long Sundays taking inventory could be. He definitely knew every bar operator or manager in the country had better things to do than to spend their precious time hip deep in bottles, kegs and spreadsheets, stuckin stuffy store rooms that were packed to the ceiling with inventory.
With his skills in sales and management, Scanga knew he was dealing with a winning product that would generate a lot of interest in the hospitality sector. However, before it was time to start knocking on doors and making sales pitches, it was important to further develop the product. With that in mind, the company lined up some investors and started building their team.
It was not too long before Scannabar began to transform into the company it is today. Scanga says their success has been all about creating long-lasting partnerships with the operators they service.
He explains that, "It's not about simply buying a product. It's about buying a management solution for their business. "Scanga wants prospective new clients to know that partnering with Scannabar will allow them, "to increase profits, create peace of mind and grow their business.
"It sounds great. So how do they do it? Scanga explains that Scannabar's system is all about tracking inventory from, "the cradle to the grave."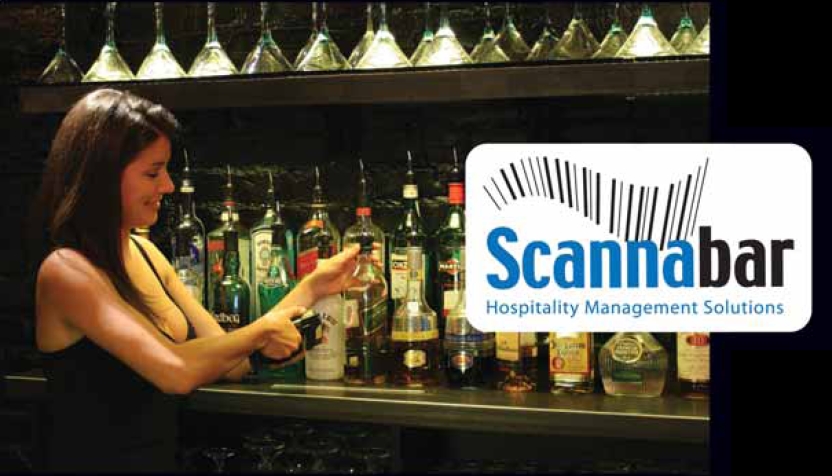 The system is fast, accurate and simple to use. Once a liquor delivery is made, all bottles have a bar coded ribbon affixed to the exterior of the bottle.By scanning both the Scannabar barcode and the existing bar code on the bottle, the system is able to calibrate each bottle individually from the bottom to the top. The bar coded ribbon is unlimited number of pouring stations throughout a location, keeping track of each individual bottle, and its contents, until it is empty and recycled.
Operators or managers will be able to ask how much product went to a particular bar. They will then know what was poured at that location and be able to compare that to what was sold. If any discrepancies exist at that point of sale,the system will be able to flag it, making it a wonderful loss prevention tool.
With liquor shrinkage estimated to be somewhere between 20 percent and 25 per cent depending on the bar, it is obviously a problem that needs to be attacked head on. While Scanga acknowledges that no system is fool-proof, he does feel that a reliable system like Scannabar should be able to cut out 25 per cent to 30 per cent of those losses.
Taking advantage of the digital world we live in today, Scanga has uploaded several short video examples that detail how the Scannabar system works. To view these, go to YouTube and type in "liquor inventory software." Additionally, the company plans to relaunch their website www.scannabar.com before Christmas. The new version will be easier to navigate and will show precisely what the product does, and just as importantly, what it does not do.
With more students coming out of hospitality degree programs like the one Scanga graduated from at Montreal's La Salle College, he says the level of professionalism from the operator side will continue to grow. With these young and energetic hospitality professionals flooding into the industry, he realizes that it is vital companies continue to evolve in order to address the growing demands of operators.
Moving forward, Scannabar is looking at offering some new and improved reporting features. Additionally, with Blackberry culture taking off, they are also looking at helping clients better access reports from PDAs or off the Web. There is no question that informationis money, so data collection is another area the company plans to direct some R & D funds at in the near future.
Customer service is an area Scannabar takes great pride in. Scanga understands that most bars are a seven-days-a-week business. Because of this, his company provides support seven-days a-week as well. If a client calls in with a problem, big or small, he or she will likely end up talking to Nick Kaoukis, Scannabar's tech support manager for the past eight years. The long-time employee, or a member of his team, are confident they can rectify the issue quickly in order to get the operator back working at top efficiency.
There is no additional yearly chargefor customer service when the Scannabar system is purchased. Instead, there is a one-time fee of $5,995, which includes all the software and hardware necessary to operate the system. Customer service and future upgrades are included in that price. Additionally, to celebrate their 10th anniversary, Scannabar is offering a $1,000 rebate on the system. With a deal like that, it looks like 2008 is indeed a year to celebrate.