Standard Drink Recipe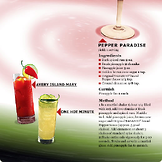 To run a successful and have a loyal following, it is important that your customers are served consistent drinks. To do so, standard drink recipes must be prepared so as to prepare your bar staff accordingly. A standard drink recipe is made up of the following:
Exact quantity of each ingredient
Glass size
Procedure to make the drink
Garnish
Any other special procedures/condiments
A picture is an option
For each drink served at your place of business, a standard recipe should be written up and kept on file to train new bartenders and make sure older bartenders do not sway from the company standards.
Standardized recipes will also help control your pour cost percentages and a revision on a 6 month basis is suggested. Below, you will see how to document a standard drink recipe.
Ingredients
Drink
: Stinger
¾ oz cognac
Glass
: old fashion
¾ oz white crème de menthe
Procedure
In an old fashion glass, fill with ice, pour ¾ oz cognac and then ¾ oz white crème de menthe. Add a stir stick.
Ingredient Bottle Cost Cost/oz Qty Cost/portion
Cognac $30.00 $1.18 3/4oz $0.89
Crème/Menthe $18.00 $0.71 3/4oz $0.53
Drink Total Cost: $1.42
Total ounces: 1.50
Selling Price: $7.50
Cost % 18.93%
If all your drinks are priced correclty you will always be in line with your costs.