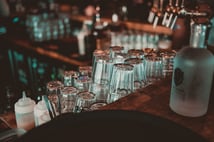 Bar inventory management can present several challenges that require effective solutions to ensure accurate tracking and control of inventory, especially within a "bar inventory system" and "liquor inventory system." Let's delve into some common challenges and their solutions in bar inventory management.
Manual Counting Errors: Manual counting can lead to human errors, resulting in inaccuracies in inventory records. To mitigate this challenge, bars can implement barcode scanning systems or digital inventory management software. These automated systems minimize human errors and provide accurate inventory counts.

Inefficient Reordering: Without a proper system in place, bars may struggle with inefficient reordering processes. The solution lies in utilizing inventory control systems that automate reordering based on predefined par levels. This ensures timely replenishment, reduces stockouts, and optimizes inventory levels.

Shrinkage and Losses: Bars often face challenges related to shrinkage, including theft, spillage, and over-pouring. Implementing security measures such as surveillance cameras, liquor bottle locks, and training staff on proper inventory control can help mitigate these losses.

Poor Inventory Visibility: Lack of visibility into real-time inventory levels can hinder efficient operations. Utilizing bar inventory systems or liquor inventory management software provides real-time tracking and visibility into stock levels, enabling proactive decision-making.

Data Management: Managing inventory data manually can be time-consuming and prone to errors. Digital inventory management systems offer centralized data storage, streamlining data management and ensuring accuracy, accessibility, and ease of analysis.

Variability in Demand: Bars often face fluctuations in customer demand, making it challenging to accurately forecast and manage inventory levels. The solution lies in analyzing historical sales data, seasonal trends, and customer preferences to make informed ordering decisions and optimize inventory based on demand patterns.

Vendor Management: Inconsistent or unreliable suppliers can disrupt inventory management. Building strong relationships with reputable vendors, negotiating favorable terms, and maintaining open communication ensures reliable supply chain management and minimizes disruptions.

Training and Education: Inadequate training and education on inventory management practices can hinder efficiency. Regularly train staff on inventory control procedures, proper pouring techniques, and the importance of minimizing waste to enhance overall inventory management.

Integration Challenges: Integrating inventory management systems with existing POS systems or other software may present technical challenges. Collaborating with experienced IT professionals or consulting with inventory management software providers can help ensure seamless integration and functionality.

Ongoing Monitoring and Analysis: Continuously monitoring and analyzing inventory data is crucial for identifying trends, addressing issues promptly, and making informed decisions. Regularly review inventory reports, conduct audits, and implement adjustments to optimize bar inventory management.
By addressing these challenges with effective solutions, bars can enhance their bar inventory systems and liquor inventory systems, ensuring accurate tracking, cost control, waste reduction, and improved profitability. Implementing automated systems, utilizing data-driven insights, and fostering strong vendor relationships contribute to efficient bar inventory management and a successful establishment.