Liquor Inventory for Hotels: Elevating Guest Experience through Smart Bar Inventory Management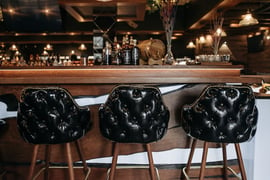 In the bustling world of hotels, where hospitality meets luxury and service is paramount, every detail matters. This is especially true for the bar and beverage services within hotels. A flawlessly managed bar not only adds to the overall guest experience but also contributes significantly to the hotel's revenue. To achieve this level of excellence, efficient liquor inventory management is essential. In this article, we'll explore how bar inventory apps and hotel inventory software can transform liquor inventory management within hotels, enhancing both operations and guest satisfaction.

The Significance of Liquor Inventory Management in Hotels

Effective liquor inventory management is a delicate dance between ensuring that the bar is well-stocked to meet guest demands while avoiding overstocking that ties up capital. Hotels often have multiple bars, each catering to different settings - from a casual lounge to an upscale rooftop bar. This diversity of venues presents a unique challenge in maintaining a consistent and optimized liquor inventory across the property.
Bar Inventory Apps and Hotel Inventory Software: A Seamless Solution

Enter bar inventory apps and hotel inventory software, tailor-made to streamline the complex task of managing liquor inventory in hotels.

Real-time Tracking: Bar inventory apps offer real-time tracking of each liquor bottle, mixer, and garnish. This ensures that inventory data is accurate and up-to-date, making it easier to plan restocking and prevent shortages.

Comprehensive Insights: Hotel inventory software provides in-depth analytics and reports, enabling you to analyze consumption patterns, identify top-performing items, and make data-driven decisions for your bar offerings.

Multi-Venue Management: For hotels with multiple bars and venues, these tools offer the advantage of centralizing inventory data. You can monitor inventory levels across all locations, facilitating better coordination and resource allocation.

Integration with Point of Sale (POS) Systems: Many bar inventory apps seamlessly integrate with the hotel's POS system. This integration ensures that sales data and inventory updates are automatically synchronized, minimizing errors and providing a holistic view of the bar's performance.
Waste Reduction: Efficient liquor inventory management involves minimizing wastage. Bar inventory apps help track spillage, breakage, and over-pouring, allowing you to implement measures to reduce waste and control costs.

Enhanced Guest Experience: Accurate inventory management ensures that guests can enjoy their favorite drinks consistently. Whether it's a classic cocktail or a signature creation, a well-stocked bar adds to the overall guest satisfaction.

Choosing the Right Solution

When selecting a bar inventory app or hotel inventory software for your hotel, consider factors such as user-friendliness, compatibility with your existing systems, customer support, and scalability. Look for solutions that offer customization options to cater to the unique needs of your hotel's bars.

In conclusion, liquor inventory management is a critical component of successful bar operations within hotels. Bar inventory apps and hotel inventory software offer a range of benefits, including real-time tracking, comprehensive insights, multi-venue management, and waste reduction. By embracing these technological tools, hotels can enhance efficiency, optimize inventory, and elevate the guest experience at their bars. Cheers to a well-organized and seamlessly operated bar that becomes a highlight of your hotel's exceptional hospitality!