Mastering Mixology and Margins: The Power of a Liquor Inventory App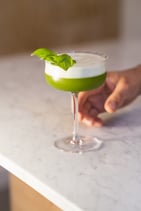 In the competitive world of bars and nightclubs, the art of mixology and efficient liquor control are paramount for success. To master this balancing act, savvy bar owners are turning to Liquor Inventory Apps and Bar Inventory Apps. These digital tools are becoming the secret ingredients that transform bar management, ensuring optimal control over liquor and bar operations. Let's explore how these apps are changing the game, empowering establishments to mix the perfect cocktail of success.
Precise Liquor Control with a Liquor Inventory App

A Liquor Inventory App is a bartender's best friend when it comes to precise liquor control. Traditional manual inventory methods are not only time-consuming but also prone to errors. With a Liquor Inventory App, each drop of liquor is meticulously tracked in real time. This digital solution ensures that every bottle and keg is accounted for, significantly reducing the likelihood of over-pouring or theft.

Moreover, these apps provide data-driven insights into liquor consumption patterns. Bar managers can access real-time data on which spirits are in high demand and which ones are lagging behind. Armed with this information, they can fine-tune their purchasing decisions, ensuring that the bar is always stocked with the right products. This optimization translates into reduced wastage, more efficient storage, and ultimately, higher profitability.

Efficient Bar Control with a Bar Inventory App

Efficiency is the name of the game in the bar and nightclub business, and a Bar Inventory App is the ticket to streamlined bar control. Bar managers can say goodbye to the hassle of manual stock counts and guesswork. With real-time updates on inventory levels, staff can focus on delivering exceptional customer service rather than getting bogged down in inventory tasks.

The efficiency extends beyond inventory management. Bar managers can set up automated alerts for low stock levels, ensuring that orders are placed in a timely fashion. No more last-minute rushes or stockouts that could disappoint customers and impact sales. This improved efficiency not only saves time but also reduces the stress associated with managing a bustling bar.

The Winning Combination: Liquor and Bar Control

When you combine the capabilities of a Liquor Inventory App and a Bar Inventory App, you get a winning formula for liquor and bar control. Imagine having a complete understanding of which drinks are your top sellers and being able to adjust pricing or promotions based on data-backed insights. Bar managers can develop pricing strategies that maximize revenue while ensuring customers receive value for their money.

These apps also play a significant role in promoting accountability. By digitally tracking every transaction, from orders to sales, they act as a deterrent to employee theft and unauthorized consumption. This not only creates a more secure environment but also fosters trust among staff members, which is essential for smooth operations.

In conclusion, the incorporation of a Liquor Inventory App and a Bar Inventory App is a game-changer for the bar and nightclub industry. These digital tools empower bar owners to take precise control of their liquor inventory, streamline operations, make informed purchasing decisions, and ultimately enhance profitability. The result is a well-organized, efficient, and secure establishment that caters to patrons' preferences while staying competitive. If you're looking to master the art of mixology and margins, investing in these innovative apps is the way to go. Cheers to the future of bar management!