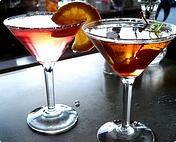 In any business you always need to manage your day to day properly, but one thing you always need to consider and always work on is staying current with the latest and upcoming trends.
Do your research on the latest food and beverage trends in the hospitality industry and you will find valuable information you can use in your business.
You can pick up great additions to your food and drink menu. Going to larger markets and watching what they are serving as new cocktails can be a great help.
Consider adding new categories of food on your menu. If you're a standard fair restaurant maybe adding some tapas true to your current menu might help clients stop by for a drink and a small bite.
Stay true to your core concept but add flavour from the new trends that are out there. Is there a Hot fruit on the market, incorporate it into your core drink lists. Example Pomegranate martinis or Daiquiris.
Look at what popular marketing ideas are going on in bigger markets and different places and be the first to bring them into your local market.
In the end you are always competing with the other bars and nightclubs around you. If they come up with the idea first you will always be a step behind. The important thing with all trends you incorporate is you stay true to your core image. Trends come and pass you do not want to alter to much from something that is working you just need to tweak it now and then.