Chapter 4: Crafting the Perfect Bar Menu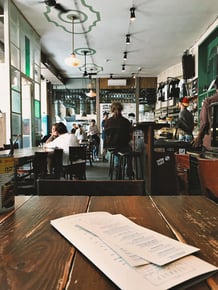 The bar menu is the heart and soul of your establishment. In this chapter, we'll explore the art of crafting a compelling bar menu that delights your customers and keeps them coming back for more. From signature cocktails to a well-curated selection of beers and wines, your menu plays a pivotal role in defining the experience you offer.

When creating your bar menu, it's essential to strike a balance between innovation and familiarity. While unique, handcrafted cocktails can be a major draw, don't underestimate the allure of classic favorites that customers know and love. A diverse menu that caters to various tastes and preferences will ensure that there's something for everyone.

Seasonality can also play a significant role in shaping your bar menu. Consider incorporating fresh, local ingredients that align with the changing seasons. Not only does this add an element of excitement and anticipation for your regulars, but it also showcases your bar's commitment to quality and sustainability.

Now, let's talk about bar inventory and bar inventory software concerning your menu. Maintaining a well-organized and up-to-date inventory is essential to serving your menu items consistently and efficiently. Bar inventory software comes into play by streamlining this process, enabling you to track ingredient usage, monitor stock levels, and forecast future needs.

With bar inventory software, you can easily identify top-selling items, understand which cocktails or drinks are driving the most revenue, and make data-driven decisions on pricing and promotions. This valuable insight allows you to optimize your menu, focusing on the most profitable items while still catering to your customers' preferences.

Moreover, bar inventory software can help you stay on top of inventory counts, reducing the risk of overstocking or running out of essential ingredients. By minimizing wastage and ensuring a steady supply of ingredients, you maintain a cost-effective operation that positively impacts your bottom line.

In conclusion, crafting the perfect bar menu involves a delicate balance of creativity, familiarity, and seasonal touches. By offering a diverse range of options and staying attuned to customer preferences, you'll create a menu that entices and satisfies. Coupled with efficient bar inventory software, you'll have the tools to manage your inventory seamlessly, optimize your offerings, and boost your bar's profitability. Cheers to a menu that leaves a lasting impression on your patrons!