From Bottles to Bytes: Modernizing Bar Control with a Liquor Inventory App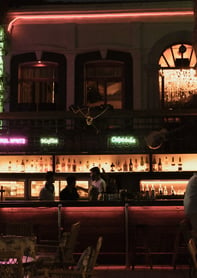 The traditional methods of liquor control and bar management have given way to a new era, one that revolves around digital innovation. As bars and nightclubs strive for efficiency and profitability, Liquor Inventory Apps and Bar Inventory Apps are taking center stage. In this article, we'll explore how these apps are redefining bar control and liquor management.

Embracing Technology for Precise Liquor Control

The heart of any bar operation lies in the control of its liquor inventory. Traditional methods of tracking bottles and kegs have proven time-consuming, prone to human error, and difficult to keep up with the dynamic demands of the industry. Enter the Liquor Inventory App, a digital solution that changes the game.

With a Liquor Inventory App, every ounce of alcohol is meticulously tracked in real-time. This real-time tracking doesn't just provide accurate data on-hand; it also minimizes over-pouring, spillage, and theft. The result? More precise control over your liquor inventory, ensuring that every drop is accounted for. This level of accuracy is the foundation for efficient liquor management.

Efficiency in Bar Control through a Bar Inventory App

Efficiency is the key to a successful bar operation, and a Bar Inventory App is an indispensable tool for achieving this goal. This technology streamlines bar control in several ways.

Firstly, it eliminates the need for manual stock counts and data entry. With real-time inventory updates, bar staff can easily see what's available, reducing the chances of running out of popular drinks during peak hours. This enhanced efficiency not only improves customer service but also eliminates the stress associated with traditional inventory management.

Secondly, the app streamlines the reordering process. Automated alerts for low stock levels ensure that orders are placed in a timely manner, reducing the risk of stockouts. This not only saves time but also prevents lost revenue due to understocking.

The Symbiosis of Liquor and Bar Control

When Liquor Inventory Apps and Bar Inventory Apps work in tandem, the synergy is undeniable. Imagine having precise data on which drinks are your best-sellers and being able to adjust pricing or promotions accordingly. With real-time insights, bar managers can optimize their offerings, ultimately maximizing revenue while keeping customers satisfied.

Furthermore, these apps foster a culture of accountability. By digitally tracking every transaction, from orders to sales, they act as a deterrent to employee theft and unauthorized consumption. This ensures a more secure business environment, builds trust among staff members, and enhances overall bar control.

In conclusion, the integration of Liquor Inventory Apps and Bar Inventory Apps represents a modern approach to bar control and liquor management. These digital tools provide accurate and real-time insights into inventory levels, streamline operations, reduce wastage, and enhance profitability. Bars and nightclubs that embrace this technology gain a competitive edge in an industry known for its dynamism and tough competition. If you're looking to bring your bar into the digital age and modernize your operations, consider the implementation of these innovative apps. Raise your glasses to more efficient and profitable bar control!