By Chris ParryAtlantic Publishing
Part 2 of 3: Design Your Bar With the Customer in Mind
Consider Customer Comfort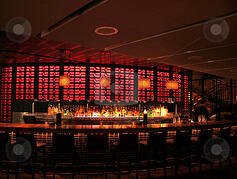 Have you ever sat under a blue neon light for an hour? While neon decor might look great when a bar is packed to capacity and the music is pumping, when business is slow it's like a power drill closing in on the center of your forehead. Certainly your customers should be impressed by your decor, but will the very look that draws them in end up driving them away early? Consider the following:
Invest in comfortable seating. Wooden barstools may look fine, and are usually very cheap to purchase and maintain, but are they likely to give your patrons buttock cramps after an hour? Try padded seating. Make sure the customers can move their seats to suit with a minimum of fuss - never have barstools and tables bolted to the floor.
Consider installing booths. Replace those cheap tables. If you want your customers to stay all night, give them the kind of seats that will make them too comfortable to leave. Customers tend to settle into booths, especially if a venue is crowded. If your drink servers are attentive and food is available, a group in a booth is all the more likely to settle in until closing. Remember, a shaky table is very easy to walk away from.
A comfortable bar surface keeps your clientele happy. Make sure your customers can lean on the bar and get comfy without getting cold elbows. This is much more likely if your bar surface is wood than if it's stainless steel or marble.
Lighting. Your lighting does more than just keep people from bumping into one another - it sets a mood. If you've inherited a system of overhead fluorescent lights or neon, consider getting a lighting specialist to give you suggestions on potential improvements. It won't cost as much as you think. Generally a quote is free.
Color Schemes Influence Buyer Behavior
Have you ever wondered why fast-food outlets almost always follow the same color scheme? The McDonald's decor and logo are yellow and red, as are those of Taco Bell and Burger King; KFC's are red and white, just like Pizza Hut, Wendy's and Jack in the Box. Coincidence? Not quite. Research has shown that certain colors promote cravings in consumers. When an establishment is decked out in reds and yellows, customers tend to experience feelings of hunger, not to mention an inability to settle down and relax. It's believed that those colors will cause a moderately hungry person to order a little more than he or she needs. They also will prompt customers to move on quickly once their money is spent. Blues and greens, on the other hand, promote relaxation, serenity and even lethargy amongst customers, which might be the better option for an establishment like a bar, where you're looking to keep your clientele seated for the long haul. How can you utilize these colors to quietly "persuade" your customers to buy, buy and buy?
Menus and food areas. A red and yellow color scheme on your tabletop menus or food area signage may cause your patrons to develop a stronger urge to order food, yet not be so over­ whelming as to chase them out the door.
Bar decor. Some hardy potted plants, maybe a few palms and a little pastel color on your walls may help your bar promote a feeling of island- like serenity in your customers, compelling them to relax a little - and stay.
External decor. Your signage and building front are supposed to draw people in. But does your frontage inspire the desire to party? Or does it drive people to the KFC down the street?
Staff uniforms. Do the colors of your employees' uniforms say to your customers, "Welcome, stay a while," or "I'm busy, what do you want?" Your staff uniforms are an important part of your overall decor. Your decisions about their design can radically change the atmosphere of your establishment.
This article is an excerpt from the Food Service Professional Guide to Bar & Beverage Operation, authored by Chris Parry, published by Atlantic Publishing Company. This excerpt has been reprinted with permission of the publisher. To purchase this book go to:
Atlantic Publishing Company
Amazon.com