By Bob Johnson
Part 1 of 2: Do Bartenders Steal?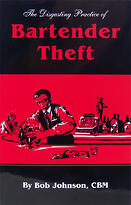 Do bartenders steal? I've worked with some outstanding bartenders over the years, men and women who are honest, hard-working, team/family-oriented and loyal. I'd like to think all bartenders are like that, but according to some, I'm misguided.
Joe Motzi of Entrepreneur Consultants in New York wrote an article on the subject for Restaurant Hospitality magazine, in which he said: "The theft is incredible! In the past three years we ran across only one bartender who wasn't stealing from his employer. That's out of about 1,000 clients! Only one bartender went by the rules of the house!"
Employee Service Reports in Fort Myers, Florida, a surveillance service to restaurants and lounges since 1950, reports that more than 50 percent of bartenders surveyed are not recording sales. That's a polite word for stealing. After weeding out the undesirable employees, the theft problem goes away - at least until after the new hires are comfortable with taking advantage of management.
A Michigan bar owner I know fired her last nine bartenders for stealing - in just one year. The owner of the Au Main bar in New York City has filed a $5 million lawsuit against 12 former bartenders and his chief financial officer for "working together (collusion) against the house, not recording drink sales and splitting the money amongst them for the past 8 years". The CFO changed the numbers in the books to cover up the missing inventory.
The temptation for a bartender to steal, and the ease of doing it, is scary. Receiving cash each time you sell a drink creates the temptation to keep the money (is anyone watching?). The drink sale is simply not rung up. The money for the drink goes straight into the cash register drawer by hitting "00" (No Sale), or they work out of an open drawer. They keep track of how much they are "over" by using a type of abacus system - 3 match sticks in a nearby empty glass equals $30, or a black sneaker mark on the floor equals $20 (3 black marks and they're up about $60).
The bartender takes the "over" out of the cash register drawer before turning in their money. Selling a cup of coffee or a "virgin" daiquiri (non-alcoholic) increases the temptation for bartenders or servers to take that money, too. Most bars do not inventory non-alcoholic type drinks, and most do not require their bartenders/servers to issue a receipt for each sale.

While taking from you, there's a good chance they're also cheating your customers. Your bar might feature "tooters", which are 24 shots of liquor served in a one-ounce tube. The bartender is supposed to sell them for a buck apiece, but decides to charge the customer $2 - and pockets $24 at the customer's expense. Of course, the house gets hurt when the customer discovers the scam.
The theft process starts when first hired. The bad bartender usually looks for areas where management is lax. They run little "spot tests" - seeing what will work and what won't. Once it's established what works it's full steam ahead.
Another type is the overt thief - one who steals openly, thinking no one, including the customer, realizes what he or she is doing. Professional spotters describe this type of bartender theft as "wide open". These people fear no one - customer or management.
This is reason enough to use professional surveillance companies, or spotters, routinely. Spotters are hired to watch for, and report, any act of theft by a bartender, waitress, manager, or any employee working on the premises.
However, there can be problems with spotters. Many don't understand a bartender's organization, motion, or actual transactions. Many are also "minimum wage plus expenses" employees of a local security company and have never tended a bar before. The best spotter is one who has bar experience and can detect a discrepancy in another bartender's work routines.
Bob Johnson is a nationally recognized Beverage Management consultant who specializes in multi-unit management of nightclubs/bars and bartending. He is a 50 year veteran of the bar business and is known for creating America's first certification program for bar managers, "CBM" (Certified Bar Manager). Mr. Johnson has taught at Florida International University in Miami, Florida, serving as Professor of Beverage Management.
Mr. Johnson can be contacted at:
Website: BobTheBarGuy.com
Email: bjbarhop@aol.com