By Douglas Robert BrownAtlantic Publishing

Outdoor Areas Deserve Focus
Most customers will be people who have passed you by in the past and decided to try your venue. In order for this to happen, you need to pay far more attention to the exterior of your venue than most bar operators do. Here are some easy ways to spice up your outside areas:
A graphic projection lighting system. Also known as a "bat light," this type of system can provide a highly effective way to advertise your bar to passersby. It also looks great when used on the inside of your establishment. Bat lights use a light and optic setup to project your logo or other related graphics onto any surface, including walls, ceilings, the outside sidewalk, and more. They can be purchased or rented for far less than you might think.
Signage. From how far away can your bar be seen? If you can't be seen at least a block away, consider increasing your outside signage. While this is not a small expense, there's no point in hiding the fact that your bar is nearby. If you talk to your distributors, you might find that one of them is prepared to subsidize the cost of your signage, in return for mention of their product.
Neon works! Why do you think every bar has neon beer signs in the window? The answer is simple: because people notice them. An impressive neon sign is a local landmark. Think of those huge neon signs in Times Square and how many tourists know of them and send photos of them home to their family. You don't have to go to quite that scale, but a small investment in neon will bring people in to take a closer look.
Don't discount the appeal of a nice paint job. Is your exterior freshly painted? A new paint job isn't just about aesthetics. The outside of your venue is usually assumed to reflect the inside. Consider asking your staff to come in after-hours and paint the walls for you, in return for a bonus. Most bar staff could use a few extra bucks now and then. It'll be a lot cheaper than hiring a professional.
Landscaping isn't a luxury. Just as your exterior walls say a lot about your interior, so, too, do your grounds. If all you have outside your venue is a gravel-covered parking lot and a few beat-up pickup trucks, you're not going to attract a broad demographic, no matter what you offer inside. Plant some hardy greenery outside that will survive any weather extremes (choose varieties that will not need constant trimming and watering). This will soften the outside of your bar exterior. A few trees around the outside of the parking lot won't hurt, and some up-lights underneath them can offer a particularly breathtaking look, for not a lot of money.
Keep things neat. Remove snow in the winter, have an awning to protect patrons from the elements, and make your entrance attractive to ensure that more people will peek into your bar.
Who is greeting your customers? Is someone making them feel welcome right away or are they being greeted only by a suspicious security pterson? Do not give customers an excuse to walk away after they have made it all the way to your bar's door. Make them feel welcomed.
Add a Touch of Class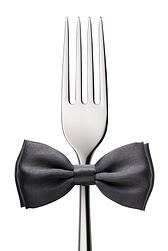 Sometimes the only element that separates successful bars from those that fail is in the small professional touches of excellence. This extra effort implies that tremendous thought has been made all around to attain the highest level of quality possible. Professional bartenders and courteous cocktail waiters/waitresses can be found in any well-managed restaurant. However, it is the small, un-demanded touches and extra procedures that separate good lounges from superb ones. Described in this section are some simple, inexpensive suggestions that will give your bar the extra touches—the finesse—that will separate yours from the rest.
Simple signs of quality that make a big difference include:
Real napkins and table linens.
Fresh ingredients, real fruit juices, and high-quality garnishes.
Elegant presentation of drinks—garnishes, fancy napkins, and pretty glassware can turn even ordinary drinks into extraordinary ones.
Elegant cutlery and dinnerware.
Fresh flowers and candles.
Quality tables, chairs, and seating. Comfort is always appreciated.
Entertainment. Giving patrons something to do or something to look at while drinking is appreciated, especially by those customers who arrive alone.
Beautiful bathrooms. Many customers judge a bar by the bathrooms. If yours are beautiful, clean, and offer extras such as a sofa and breath mints, your bar will seem all the more impressive and wonderful to your customers.
Elegant decor or a unique ambience. Even sipping a beer in a visually exciting place seems more interesting and fun than staying at home. Lights, colors, and artwork can easily create ambience on a small budget.
This article is an excerpt from the The Professional Bar & Beverage Managers Handbook: How to Open and Operate a Financially Successful Bar, Tavern and Nightclub, authored by Douglas Robert Brown, published by Atlantic Publishing Group. This excerpt has been reprinted with permission of the publisher. To purchase this book go to: