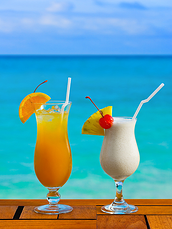 By Elizabeth GodsmarkAtlantic Publishing
This sector of the beverage industry, known in the trade as NABs, needs to be taken very seriously if you want to cash in on current drinking trends. More customers today (often affluent, young, career-oriented clientele with plenty of disposable income) are choosing to drink NABs. Health issues, stricter DWI laws, and maybe even image are influencing their decisions to turn to NABs. The fact remains: this trend can mean big bucks. Tap into the possibilities:
Promotions. Which NABs are consistently popular in your establishment? Buy bulk and sell on promotion. Publicize offers that your customers just cannot resist. Use a large chalkboard, or place "in-your-face" table tents on tables and at the bar.
Specialize. Don't bother with expensive market research. Consult your regular customers. Ask them what they'd like to see on the menu. Decide on a few in-house specialties. Profits will increase noticeably, as margins for NABs are generally higher than for alcoholic beverages.
Bottled water. This is no passing fad. Both in the dining room and at the bar, people are choosing to alternate alcoholic drinks with bottled water. Shelf dates tend to be generous (particularly for still, noncarbonated waters), so cash in: buy in bulk for big savings.
Added value.Serve NABs in sophisticated, unusual glasses that scream "quality"! Customers will happily pay that little bit extra for a "wow" experience.
Don't price too low. A word of warning. To make the most of this burgeoning area of the drinks market, keep your prices in line with your estab­lishment's other alcoholic beverages. If NABs are priced too low, bartenders will be reluctant to promote them, and customers will think they're nothing special.
This article is an excerpt from the Food Service Professional Guide to Controlling Liquor Wine & Beverage Costs, authored by Elizabeth Godsmark, published by Atlantic Publishing Company. This excerpt has been reprinted with permission of the publisher. To purchase this book go to: