By Douglas Robert BrownAtlantic Publishing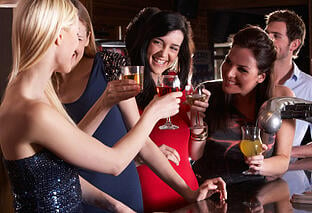 There are many bars that go out of business each year. This is because the market for new bars is a challenging one. If you are in an area that has new bars opening all the time and a clientele who is always seeking the latest thrill, you need to work extra hard to ensure that your establishment stays exciting enough. There are many small details that can mean the difference between a bar that is merely surviving and one that is prospering beautifully. In this chapter, you will learn the small details that can push your success higher than ever. Not all of these tips are expensive. Many take only ingenuity and some effort, but the results can be spectacular!
Distinguishing Your Bar from Others
One of the first steps to ensuring that your bar is a success for a long time to come is to look around and make sure that you are offering value in the local area. Most of your business will be from people who can easily drive, walk, take a cab, or ride a bus to your bar. These same patrons will have the choice of many other bars in the area. There are a few ways to make sure that they select your bar:
Research the competition. Take the time to sit in every competing bar. After you order your drink, take notes: Who frequents these bars? Older patrons? Younger patrons? Yuppies? Tradespeople? What sort of bar is it? How much do they charge? What does the bar look like? What are the drinks and food offered? What are the promotions? What kind of entertainment is offered? How busy are they and on which night are they busiest? What are they doing wrong? What are they doing right?
Consider lower prices. If your competitors' prices are high, consider lowering yours. It will often get people to try your establishment for the first time. Your service and the quality of your bar will decide whether
they return.
Service. If your bar is known as the friendliest bar in town while your competitors tend to slack on service, you will make a profit. If your competition is already offering great service, you have to make your service stellar in order to compete.
Focus on what the competition is doing wrong. If you notice something that the competition is doing wrong, make sure that your bar is doing that same thing right. It will encourage patrons to see your bar as the local establishment that offers more.
Set your hours to take advantage of times when your competition is not available. If the competition stops food service early, think about extending your food service hours. Being able to provide something that the competition cannot or is not willing to provide is a great way to make sure that you lure in new regulars.
Do you know what the local patrons want? If you do not ask them and conduct regular market research, you have little hope of knowing the very things that will draw patrons to your bar.
Look at the bars that are succeeding elsewhere. What works in other cities and towns may work in yours. Pay special attention to the types of bars that are doing well in areas similar to your own (in towns or cities with the same demographics). These bars may have hit on an idea that may work well in your area as well.
Special promotions. Avoid using your best ideas and resources trying to compete on someone else's strongest night. Offer special promotions and discounts on nights when other bars are not offering anything. It will help lure in customers looking for something great on a slower night.
Remember, if you can offer something special, you are more likely to get more customers. It pays to make the extra effort to find out what is needed in your area—and then supply that need. Customers will flock to you.
This article is an excerpt from the The Professional Bar & Beverage Managers Handbook: How to Open and Operate a Financially Successful Bar, Tavern and Nightclub, authored by Douglas Robert Brown, published by Atlantic Publishing Group. This excerpt has been reprinted with permission of the publisher. To purchase this book go to: