How Keeping Close Tabs On Your Liquor Supply Can Both Cut Costs & Generate Revenue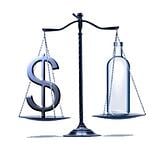 Industry studies have consistently shown that a full 25% to 30% of a bar's liquor inventory never converts into registered sales. That is the equivalent of about six to eight 1.25 oz portions per bottle (which should yield at least 25 portions.) This loss of liquor volume--due to unauthorized comps, over-pouring, spillage or theft--should be of great concern to any bar manager.
While losing 25% of a $25 bottle may not seem like a very serious problem--an unavoidable cost of doing business--the true cost is much greater than that $6 or $7 per bottle. The question you need to ask yourself is: Where is this lost liquor going? And how is it affecting sales? For instance, if your bartender is not pouring 1.25 oz portions, but is instead pouring 2 oz portions (say, perhaps, to curry favor with clients and receive a bigger tip), you're not just losing liquor volume, you're also losing potential sales. Where the customer may have been disposed to buy three drinks (3.75 ounces), he may now be content to buy just two 2-ounce drinks. Your bartender's actions, in this case, haven't merely cost you a dollar's worth of liquor, they may well have cost you $6-$8 in lost sales revenue (depending on how you price your drinks). And that's just for one customer buying two drinks. How often is this occurring? What if your bartender also happens to be giving away free drinks without your knowledge or authorization? The point is: "shrinkage" does not only affect supply costs, it can also affect revenues in a big way.
That's why loss prevention is so important. The profitability of your business depends on whole bunch of variables--the location of your establishment, the overall economy, ever-changing customer tastes.... Achieving profit growth can be difficult and can rarely be accomplished overnight. Increasing the price of your drinks is risky, and can prove more harmful than helpful as far as your bottom line is concerned. And growing your clientele usually takes time. The best way to increase profits in the short-term, therefore, is not to try to fiddle with pricing or to increase your client base. (Of course, this is something you should always be doing. But it is not easy to do in the short-term.) The quickest way to increase revenue is to make the most of the clients you're already serving. And one way to do this is to improve operations by getting tighter grip on your inventory. Loss of liquor supply at double-digit levels is not an "unavoidable cost of doing business". It is "bad business". And it is entirely avoidable. Put simply, loss prevention can pay big dividends. What's more, it can be achieved quite quickly through the implementation of a quality liquor inventory control system.