The nightclub business can be a rough. With a plentitude of competing venues, and with customer tastes in constant flux, the average half-life of a bar or nightclub is all too brief. Survival can depend on your ability to stay ahead of the curve and be in tune with your customers' ever-changing demands. In short, you need to be constantly aware of what's in and what's not in order to remain vital. Here is a brief compendium, in three parts, of some of the emerging and continuing trends in the industry, just a few things to look out for in 2012 and beyond:
Part 3 of 3: STORE CONCEPTS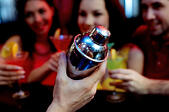 Simplicity over pretention. While bars that employ top-notch mixologists offering creative drinks will continue to attract more and more customers, you can also expect a trend towards simplicity. As David Wondrich put it in Nation's Restaurant News, "The biggest trend I see is bringing mixology down to the fun/dive-bar level." Expect to find well-made, "sophisticated" drinks in friendlier, "less sophisticated" surroundings.
Live music and entertainment. Live acts are in. More and more bar patrons are looking to be entertained while they enjoy a drink or a bite. While live entertainment has always been a good way to drive traffic to your store, drinkers and diners—particularly the over thirty crowd—are starting to look for it more and more. Thanks to the Internet, booking these acts—whether a local band, a jazz singer or comedian--is easier than ever before. What's more, social media sites like Facebook and Myspace allow you to gauge the kind of following these acts have, giving you some idea of the level of traffic you might expect.
Bottle Service. With economic recovery on the horizon, expect bottle service to once again gain popularity. While it never really went away—at least not in the VIP lounges of the latest hotspots—bottle-service popularity did wane a bit during the recent economic meltdown. Look for a comeback.
"Daylife". Daylife has begun to rival nightlife in bars and clubs across the country, especially during summertime. Rooftop bars and hotel pool areas are natural "hotspots" on sunny days. But patrons' willingness to partake in daytime drinking shouldn't be ignored, even if your store lacks a rooftop, pool or courtyard area. A weekend brunch bash or an early happy hour on weekdays can be just as profitable. Expect more and more bars to begin taking advantage of customers' gameness for early revelry.
Larger Nightclubs. Expect to see larger—20,000+ square-foot—venues opening up in major cities. Also expect some of these new mega clubs to be segmented into distinct areas within. Instead of roped off VIP areas, you'll begin to see entirely separate enclaves, or mini-clubs, within the larger store.
Multi-use spaces. Hand in hand with the (re-)emergence of larger nightclubs is the trend toward multi-use venues. Instead of putting all their eggs in one basket, drinking establishments will increasingly employ versatile-design elements (such as colored glass walls that can be turned into projection TV's) to start to cater to different clienteles. Expect to see multi-use spaces that can be turned into dance clubs, live-music venues and sports bars.

Cocktail trucks. Where not prohibited by law, expect to see cocktail trucks peddling alcoholic concoctions. You may have noticed food trucks on street corners of major U.S. cities. Often run by talented chefs and would-be restaurateurs (who may lack the requisite capital to establish a more permanent store), these trucks offer a various, often high-quality, fare. This trend is now being extended to potables. In San Francisco, BrewTrucs can be seen roving the streets hawking coctails and beer to thirsty pedestrians. Moreover, cocktail trucks have become a tool for liquor manufacturers nation-wide to build brand recognition. While legal issues will limit the growth of these bars on wheels, you may well see more and more of these trucks at parties and campus events.