By Chris ParryAtlantic Publishing
Part 2: Do Bartenders Create Regulars?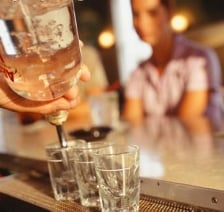 A bar business is not, as many people think, a service industry. Of course, it's part service industry, but it's also very important not to forget that it's also an entertainment industry. Do your bartenders entertain your customers while they are serving them?
Every customer is an asset to your business. Just as you wouldn't throw chairs and tables away after one use, so too should you do everything in your power to make sure that every customer comes back again and again. Your staff must know that this is your goal. They must realize that they're the front-line weapons in the battle for customer retention.
Customer needs. Every staff member, from host to bartender to manager, should be able to handle any customer's needs. If a hostess walks past a table that obviously needs clearing without lifting a finger, how do you think that will leave those customers feeling about the service standard in your bar?
People seated at the bar. They should be treated like old friends by your bar staff, at least when they first sit down. But just as it's important to engage customers in conversation when they're happy to talk, it's also important to leave them alone when they don't. A good bartender reads the client's mood.
Flair bartending is all the rage. Bartenders who consider their job to be more than a temporary source of income see themselves as the next Tom Cruise in the movie Cocktail. While putting on a show for the customers is a great way to entertain them, putting on a bad show is not. If your staff want to sling bottles and glasses around the bar in style, make sure they work within their limitations and save the practicing for after-hours.
Staff incentives. Some bar operators give incentives to their bar staff to stay around after their shifts and get to know the customers. Discounted drinks and food are not only a relatively cost-effective way to have your staff spend their free time at work, but these methods also help convince them to bring their own friends and turn your bar into their regular watering hole.
This article is an excerpt from the Food Service Professional Guide to Bar & Beverage Operation, authored by Chris Parry, published by Atlantic Publishing Company. This excerpt has been reprinted with permission of the publisher. To purchase this book go to: