By Chris ParryAtlantic Publishing
Part 1: Scams to Watch For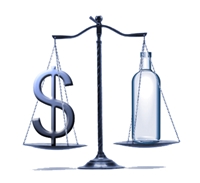 Employees can very easily fall into a habit their employers, and if you're not careful, you can be caught out for thousands of dollars, not to mention disgruntled customers. Keep an eye out for these 14 favorites:
The substitute. An employee buys his own bottle of a fast-moving spirit, brings it in at the start of the shift, and over the course of the night substitutes his own for the bar's bottle. Every time he sells a shot of this product, he then simply pockets the money, thus earning a large profit on his own alcohol while your stock stands still. While these people are not thieving your stock per se, they're thieving your business, so ensure you stamp or mark all of your spirit and liqueur bottles; check the empties regularly, and keep employee bags away from the bar and stockroom areas.
The short-pour. Your bartender short-pours every shot of a particular fast-selling spirit by between 25 and 50 percent, keeps note of how many shots she's sold from the bottle and when she's sold the number of shots that usually come from the bottle, she pockets the money from the remaining shots. Make sure that you check register receipts against the bottles used, and if possible, you use a computer-controlled pouring system, to take the opportunity to scam out of the employee's hands.
The "00." Some registers can be opened with the press of just one button or from entering in a total of $0.00. Unbeknownst to some bar operators, this is the number-one means of rip-offs by staff. A customer buys a beer and gives the bartender a fiver. "Keep the change," says the customer as he walks off, so the employee hits the "register open" button, puts in the five-dollar bill and takes out five dollars in coins and singles for his or her pocket or tip jar. How do you avoid this scam? Remove that button. Your cash register provider can do this with no problem at all, and if a customer needs change in the future, your bartender simply asks him to wait for another sale to take place. Or even better, provide change machines.
Bogus breakage. Oops! A full vodka bottle hits the floor and the bar loses, big time. But did it really hit the floor? You might have a breakage bucket in which your staff are to put any broken bottles to show that they actually broke, but how do you know that the contents weren't poured into a hip flask beforehand? Or worse, that the contents were sold and the proceeds pocketed? The answer is simple: start a "you break it, you pay for it" rule. Of course, you don't need to enforce this rule if you don't think people are taking advantage, but it will stop the thieves.
Wasted waste. 'The beer lines were a little gassy today." Well, that might explain the two gallons of beer waste in the drip trays - but does it really? Pocketing the money for a draft beer and pouring a glass of water into the drip tray is an age-old scam and very hard to detect. Make sure your staff keep measurements of any beer waste and keep track of who wastes what. In time, any trends should become apparent, and even if certain staff members aren't crooked, you'll be able to tell very easily if they need lessons at pouring beer.
The backhander. Your security staff might not feel that taking ten bucks to let someone into the front of the line is wrong, but at the end of the night, when the person who paid that ten bucks has to go home because she's out of cash, it's your potential bottom line that suffers. To combat this, simply ask someone you know to go to the door and offer a kickback to jump the line. If the kickback is accepted, you need a new security guard.
The over-charger. Your bartender either rings up a price higher than what you've set for a drink or charges regular prices but rings up "Happy Hour" prices, pocketing the difference. To combat this, ensure that cash register tapes are changed at the end of every shift and the bartender explains any "Happy Hour" discounts. Likewise, ensure that all drink prices are posted clearly for your customers so that they can identify an overcharge.
The over-pourer. This bartender simply pours more than he or she needs to and hopes for a hefty tip. Keep an eye on your inventory, and this one should be easy to spot.
Rounding up rounds. Bartenders tally up a round of drinks as a "total price," rather than as separate items. This makes it easier to inflate that price without it being noticed by the customers. They then pocket the difference when they ring it up. To combat this possibility, keep drink prices clearly posted behind the bar or on table menus.
The "soft" scam. Your bartender simply neglects to charge for the mixer component of a drink, thus peeling a small bonus for every mixed drink he or she sells. This should be easy to spot if you check register ribbons, but if you don't, your staff can make a fortune.
The "padded" tab. When your customers run a tab, the bartender pencils in an inflated total, takes the money from the customer, then later erases it, replacing it with a correct total.
Removing pencils from behind the bar and telling your staff that they must use pens is the best way to fight this one.
The substituted cash register tape. This ingenious little plan involves the bartender leasing a cash register just like yours and bringing in his or her own prepared cash register tape, substituting it for the real tape and pocketing the cash difference. Essentially, if you keep bartenders from "Z"ing their own tapes, you'll prevent this from being possible.
The refund. This is a simple, small-time scam where the bartender claims that a discrepancy in his or her takings was refunded to a customer for money lost in faulty vending machines or gaming equipment. Have any customer seeking a refund fill in a small claim form, with phone number and ID details included, and this shouldn't be an issue. Most customers won't mind doing this if they have a legitimate refund claim.
The jigger switch. The bartender brings in his or her own shot glass that seems identical to your normal barware, but is actually smaller. After several short measures, the bartender can start pocketing money without the inventory showing a shortage. Fight this by clearly marking your pouring measures and doing regular checks of your bar equipment.
This article is an excerpt from the Food Service Professional Guide to Bar & Beverage Operation, authored by Chris Parry, published by Atlantic Publishing Company. This excerpt has been reprinted with permission of the publisher. To purchase this book go to: