By Chris ParryAtlantic Publishing
Part 3 of 3: Streamlining Service Areas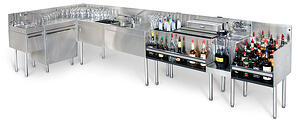 When you design your service area, it's important to realize that every step a bartender takes in the serving of a drink is costing you money and making your customers impatient. Where does your staff need to walk to get a clean glass? How far from there to the ice bins and then to the spirit dispenser? And where are your soda guns in relation to the bottles? Is the cash register yet another trip away from the customer? Even if your bartender has to take only four or five steps between each of these posts, consider how far that means your bartender has to walk in the course of serving 500 drinks a night! This is bad enough for a solo bartender, but when two or three people are working behind the same bar and sharing facilities, it can be an unproductive nightmare.
Most bartenders are right-handed. With this in mind, your bar setup should allow your staff to pick up glasses with their left hands and bottles with their right, so that the drink creation process is at its most productive. If your bottles are on the left and glasses on the right, your people will do a lot of crisscrossing back and forth, resulting in more time taken to prepare a drink - and a lot more breakage and spillage.
Consider your customers. If they're lined up three deep to get a drink, and the bar staff need to take extra steps for every drink, each of those customers doesn't just wait longer for his or her own order, but for every order ahead as well. These people are lining up to give your business money - the last thing you should do is make it difficult for them to do so.
Low-cost equipment. If you can't afford to equip your bar with brand-new reach-in refriger­ators, there is another low-cost alternative. Consider keeping a sink full of ice directly beneath the bar top. Have three or four dozen high-turnover bottled beers in the sink at all times. Your staff can refill the "Bud bins" from refrigerated stock whenever there's a slowdown in customer traffic, thereby saving dozens of unnecessary trips to the fridge every hour, not to mention giving your customers faster service.
Pre-made mixes. To save time during their busiest periods, many bars pre-make cocktail mixes. While this is a good plan, be sure not to have these pre-made mixes sitting out in plain view. Ensure your staff don't refill them in the public eye. If your bottom line dictates that you have to use tequila from Peoria, it's best not to advertise the fact when you're charging eight bucks a drink.
The Under-Bar
Your under-bar is the engine of your bar area. If it's designed well, your staff can get from order to delivery in seconds. If it's poorly designed and dys­functional, your customers and staff could spend a good portion of the night stuck in bar traffic.
Focus on the customer. Employee interaction is the key. The under-bar area should contain everything your staff needs to fill 80 percent of their drink orders without moving a step away from the customer. If your staff aren't able to engage your customers in steady conversation as they're filling their orders, you're not only putting your staff through more work than they need, but you're also making your customers wait too long.
Bar layout. If your staff can work more effectively within a smaller area of the bar, you will be able to fit more staff behind that bar during peak periods, ensuring faster service and higher productivity. Take a fresh look at the bar area and consider what changes you can make to improve productivity.
Streamline your workstation. Many bar-fitting companies sell sink units that include speed racks, jockey boxes, ice sinks and more. They can also replace aged fittings with a minimum of fuss and expense. This will give your staff a compact, efficient workstation from which to maximize their time and effort. Prices vary, but when you consider the time, labor and customer tolerance savings, it's a purchase that will pay for itself many times over. BigTray (www.bigtray.com) can sell you this kind of equipment online or over the phone at 1-800-BIG-TRAY
This article is an excerpt from the Food Service Professional Guide to Bar & Beverage Operation, authored by Chris Parry, published by Atlantic Publishing Company. This excerpt has been reprinted with permission of the publisher. To purchase this book go to:
Atlantic Publishing Company
Amazon.com